Dyeing Results
Our group met last Sunday at our now to be monthly knitting get together and I was able to snap the following photos.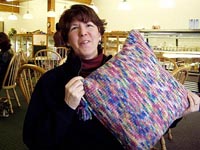 Here is Anne with her easter egg colored pillow - made from brown sheep yarn that she dyed, and knit up in a week. Very cool, especially the big tassels. Anne is planning a quilt with colors that match for the bedroom.
Kathy, meanwhile is knitting up an incredible gansey style sweater, its hard to see the stitching details (the bottom border is very cool) but I think the yarn colors show up pretty well and they are awesome.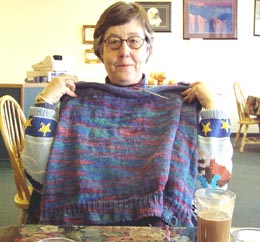 Jere meanwhile is moving along on her tank top, this is her wearing her dyed t-shirt - she wisely chose using only a couple of colors, she didn't go wild like the Schanches whose t-shirts all ended up a little muddy looking......
this week in knitting...
Well its been a fun knitting week, I've learned some new things, one is that Skacel Addi Turbo needles are not made is a size 00 - I even found a chart with the sizes they do make, and was able to pencil in what I do own. The result, I am so scatterbrained - I have about three of the same needle sizes, duh....So if anyone out there has been as goofy as me, I would love to trade. email me here Loriknitwits345@hotmail.com

The reason I needed such a teeny needle, Anne turned me on to a really cool hat she had made for her son, in a knitting book called Mostly Mittens (and 2 hats). My son, who is 9, really wants a cool hat, so I got some Baby Dale and some itsy bitsy size 000 needles.....

The other thing I am knitting is socks, I bought Cat Bordi's book, "Socks Soar on Two Circular Needles" book and I am knitting the Skacel Fairisle socks Jere found on the web page....the only problem is they say size Medium, I am a size 10, and guess I will make to fit....I have never made socks before and am enjoying the dangling needle approach.

The last bit of excitement - yesterday was our anniversary and by wonderful daughter sent my husband to the Knitting Frenzy and I received a gift certificate. yeah! Okay Jere, time to get ready for that Lopi!!!!

later....