Ah another weekend - yeah!
another chance to work on my blog.
Well this week I have been working on the hoody, so far arm and back done and half of other arm.
I have been using a really pretty variegated purplish wool to interweave on the cuffs and bottom of sweater, and I am not too sure how to tackle it on the hood, since it is not knit at the bottom, but the side. Guess I will just do trial and error.
No progress on the baby sweater, but did do a gauge swatch with the bulky pink. Zoya turned it into a kitty hat.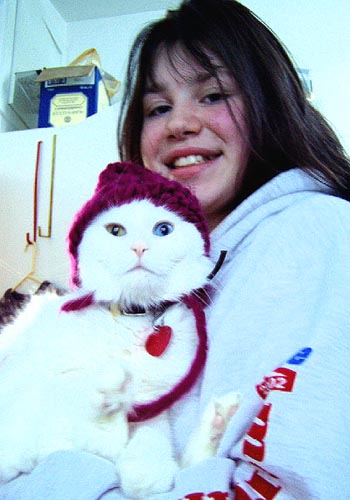 Tara is so sweet, she is actually a deaf cat, I found her as a kitty by the side of a busy road, and since we already had two cats, a black one Bro and a cute tiger, Scout (I had found her 2 years before in a parking lot, on my birthday)I was a good girl and took her to the pound.
I called my husband and told him about the kitty and taking her to the pound and he was worried that our one cat, Scout, was still missing - she had gone out the night before. So that afternoon we did a search and found only part of her, a lynx had gotten her. Poor thing, she was so sweet, but in Alaska the food chain is sometimes too close for comfort.
So had to go back to the pound and put my name in to adopt little Tara and then had to pay to adopt her.
She is a great cat, one blue eye, one gold, and deaf. So we do not let her out, except if we are out watching her.
Now off to find my yarn.....