Finally its Saturday!
Seems like the week flies by with work and kids and cooking dinners and cleaning up, and there is no time to get to my blog. Wendy wrote some very kind words about Rick's art - he gets really crabby if he can't paint, so I have to kick him out to the studio. Yesterday he was so excited his hands were all marked with oil paints and he was just thrilled. Should have gotten a picture with that big smile on his face. I totally understand, because I get really crabby when I can't knit or tell everyone about my knitting. A few years ago Kathy B. had a knitter's superbowl party where we knit and yacked and ate, but even thought I didn't watch the game (yeah) I did miss the commercials. Last week's Superbowl extravaganza wasted the whole day. I struggled forever to try and load and then figure out how to post photos, and then we had to drag ourselves around town so no time for my blog.I even had a whole bunch written but deleted it by mistake!enough whining.....
My current projects
This photo is the bottom edge of Alice Starmore's Catharine Parr.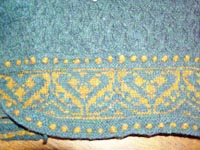 Our local knitting group got together and all started similar sweaters - Mary-Kay and Barb and then Ann (jumping in, but quickly surpassing me in a flash!) all knitting Sand Dancer in different colors, but Jere and I loved the little balls on Catharine Parr and so we went for that. My colors are Lapwing and Golden Plover from Ms. Starmore's Virtual Yarns. Jere is doing an awesome deep reddy/brown with tomato color. I will have to nag her for a photo. Jere and I got up nearly to the armholes before we discovered that the nice lattice pattern was just not there. Thinking we had 'caught' Alice Starmore at a (gasp) mistake, we emailed her for clarifications. Alas, operator error. At least we were consistent with each other. This was what was left after I ripped out (sob) the offending knit.
So I was going merrily along with that project, when I saw a class for an alpaca cable. Now years ago I tried to knit a cable sweater, a beautiful tealy/green silk and ended up with the cable on the inside. A fellow I worked with, Randy, another landscape architect and a fabulous knitter helped me out of that jam, but I never did finish it. I think its in the land of forgotten projects down in the laundry room.
Tale of the Alpaca with Jody
So then I spied this yummy, soft alpaca yarn and decided to take MK's class and talked my friend Jody into taking the class with me. Her sweater is in a gorgeous paprika color. Here is as far as mine has gotten.
The body, knit in the round is done, and one lone sleeve. Just have to finish the other and sew it together. Hope it fits! More Excuses...So Christmas was coming and I decided to do the scarf thing....enough said on that long topic. I churned out 5 in a few weeks.
But, after Christmas I got convinced by Zoya, my daugher that I just had to knit her a sweater. I had picked up the yarn girls guide to simple knits, by Julie Charles and Jordana Jacobs, and she really liked the little hoody in there. So I am done with one sleeve and the back. Its being knit in Lamb's Pride, worsted with a fun variegated trim, color is a goregous Clematis, purply color. It is rather boring looking so I am not going to post a photo here. yawn......the baby sweatersaw this cute little sweater in that ode to lions yarn book, so am working on that as well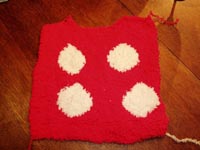 its a wild colored sweater for an 18 month old. sort of a bunch of knit squares, hardly any shaping, then sewn together.
Next projects....I have a load of them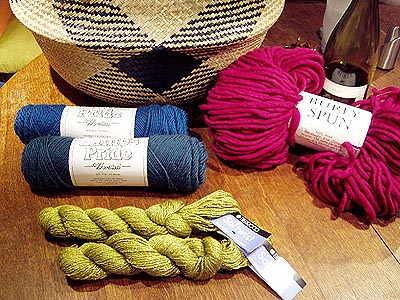 The green in front is Berocco softwist for a Belinda cable vest (really giant cables which should be fun) The bright pink is Burly Spun that knits up at 2 1/2 stitches per inch, I am going to try the ribbed sweater from the Rebecca Magazine, done the gauge should work. The other are for some felted slipper socks, I plan to use the fuzzy feet pattern from knitty and will try that. Well I am off to download some more photos, the one I want to add shows some of this lamb's pride on a bridge for one of my projects. The color match is amazing. I think you'll like the scenery. cheers.....Lori